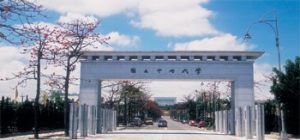 Bagi Anda yang ingin melanjutkan studi di Taiwan, tak ada salahnya untuk mencoba mendaftar beasiswa National Central University (NCU), nama lain dari Universitas Nasional Chung Yang, atau Universitas Nasional Pusat (Hanzi: 國立中央大學; bahasa Inggris: National Central University). NCU adalah sebuah universitas negeri di Taiwan yang berlokasi di Kota Chung Li, Kabupaten Taoyuan. Berikut langkah-langkah pendaftarannya:
Please complete the application online at http://admissions.oia.ncu.edu.tw/ before the deadline.
Below is the application know-how:
Register for only ONE account (please use your current e-mail, all admission-related mails will be sent to this email address) on the admission website "NCU Degree Program Application System": http://admissions.oia.ncu.edu.tw/.
Log in and complete the online application.
Upload all the required documents (PDF files only) to the admission website before the deadline. We do not accept applications sent by e-mail, fax or post.
For facilitating recommendation letters, we provide an online recommendation system. Please follow the online instructions step by step for completing the application.
Application Period: January 3 to March 15, 2017
Application Deadline: March 15, 2017
Admission Announcement: April 25, 2017
No application fee charged.
Contact information:
Ms. Novia Chen
E-mail: IntlAdms@ncu.edu.tw/ novia@ncu.edu.tw
Tel: +886-3-4227151 #57083
Komentar